Welcome to the ONE OK ROCK Lyrics Repository!
This site was created by Mew (aka crosswithyou) to archive ONE OK ROCK's song lyrics. Here you will find lyrics in Japanese, romanized transcriptions, as well as English translations for all songs, and some unique content such as interviews and live reports. The goal is to provide accurate, useful information and interesting reads for all fans, both old and new.
All lyrics found on this site have been transcribed and translated by myself using the original printed Japanese lyrics (not text found online). If you happen to stumble upon this website then I hope you enjoy your stay, but I kindly request that no parts of this website be reposted or used in any form, including for translations into other languages, without permission. Thank you.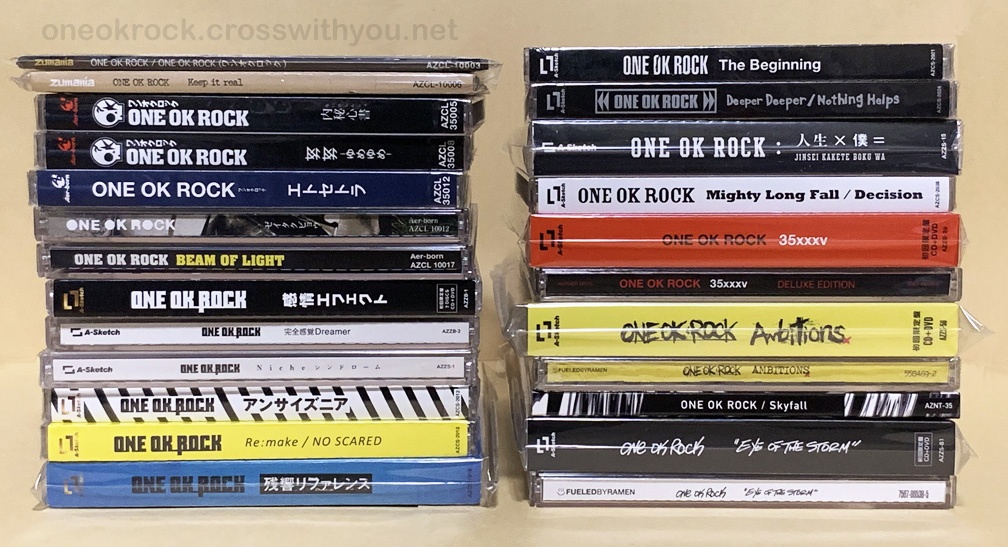 ---
- December 9, 2019 -
ONE OK ROCK announced that they will be performing at BLARE FEST. 2020 in Nagoya on February 2nd! The festival is organized by coldrain and will take place at Port Messe Nagoya.
- December 8, 2019 -
Aussies, rejoice! ONE OK ROCK is coming your way in March!
The band will be hitting up 4 cities, Adelaide, Melbourne, Sydney, and Brisbane at the beginning of March. Supporting them will be Set It Off and Stateside. Tickets go on sale December 13 at tickets.destroyalllines.com. Cheers!
- December 7, 2019 -
Happy birthday, Toru!
Our beloved Leader turns 31 today! His birthday was celebrated a little early in Shizuoka, where he got caked for the first time ever. It's been a while since he celebrated a birthday in Japan. Usually the band is touring overseas at this time.
In other news, PRIMAL FOOTMARK 2020 is currently available for pre-order! There is an original poster bonus, shipped either rolled or folded, available for continuing members who order by December 31st. The book retails for 3600 yen and will start shipping in late January to mid-February. The PRIMAL FOOTMARK member website is planned to open in early February.