Welcome to the ONE OK ROCK Lyrics Repository!
This site was created by Mew (aka crosswithyou) to archive ONE OK ROCK's song lyrics. Here you will find lyrics in Japanese, romanized transcriptions, as well as English translations for all songs, and some unique content such as interviews and live reports. The goal is to provide accurate, useful information and interesting reads for all fans, both old and new.
All lyrics found on this site have been transcribed and translated by myself using the original printed Japanese lyrics (not text found online). If you happen to stumble upon this website then I hope you enjoy your stay, but I kindly request that no parts of this website be reposted or used in any form, including for translations into other languages, without permission. Thank you.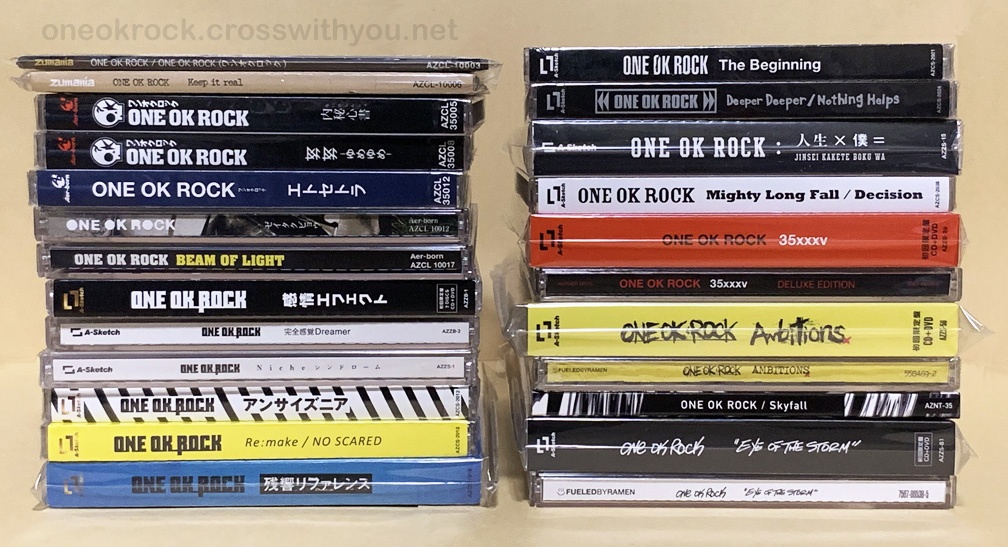 ---
- April 16, 2021 -
"Renegades" is out!! Have you watched the music video and added the song to your playlist? Lyrics available here.
Also, a big HAPPY BIRTHDAY to Taka since it is already the 17th in Japan. They celebrated his birthday on the PRIMAL FOOTMARK live stream with a vegan cake since Taka is allergic to dairy.
- April 12, 2021 -
A live stream with the band to commemorate the release of their new song "Renegades" has been announced! The stream will take place on April 16 at 4PM JST, and it will be exclusive to PRIMAL FOOTMARK members. The link and password to access the live stream will be made available to PF members on the day of the stream, and there will be an archive video of the stream several days later.
Sharing of the video access link, password, and/or video clips is strictly prohibited. This is an exclusive stream for PRIMAL FOOTMARK members only. To learn more about PF, check out the guide here.
"Renegades" will be released on April 16, and the music video will premiere on YouTube at 9PM JST. Until then, pre-order/pre-save the track and check out the short MV preview!
Pre-order/Pre-save: Amazon Music, Apple Music, Spotify