Welcome to the ONE OK ROCK Lyrics Repository!
This site was created by Mew (aka crosswithyou) to archive ONE OK ROCK's song lyrics. Here you will find lyrics in Japanese, romanized transcriptions, as well as English translations for all songs, and some unique content such as interviews and live reports. The goal is to provide accurate, useful information and interesting reads for all fans, both old and new.
All lyrics found on this site have been transcribed and translated by myself using the original printed Japanese lyrics (not text found online). If you happen to stumble upon this website then I hope you enjoy your stay, but I kindly request that no parts of this website be reposted or used in any form, including for translations into other languages, without permission. Thank you.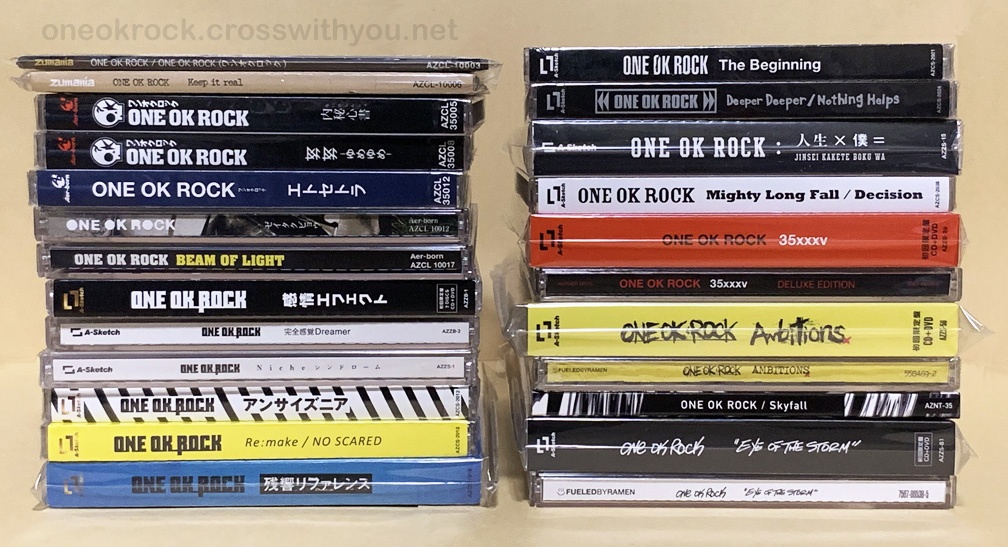 ---
- October 9, 2019 -
Happy 109 Day!
To commemorate "Wanoku Day," I've got a new interview for you all! This time, I had the pleasure of talking with graphic designer KENTA MORI. Check out the interview here!
Honda also surprised us with a behind-the-scenes movie of how the ONE OK ROCK x Honda Power Products commercial was filmed as well as some new images. They can be found on the GVP website.
And as if that wasn't enough, NHK announced that they will be broadcasting a 1-hour documentary about ONE OK ROCK's World Tour on October 19 at 11PM, Japan time! This will be the second time that the band has appeared on the network, the first time being for the 18 Fes. program. Check this page for a special message from the band and a short commercial. Unfortunately it is not likely that the program will be available outside Japan.
- September 26, 2019 -
MAX's Lights Down Low (feat. Taka from ONE OK ROCK) is now out!!! Listen here on YouTube!
I personally think this is one of the best collaborations to date. The song works so well with Taka's vocals, and his voice really meshes well with MAX's. Taka never ceases to amaze me with his beautiful voice.
Also updated the website so that the track samples on each of the lyrics pages are through Apple Music instead of Spotify.
- September 21, 2019 -
It is my wish that this site become the best source for information available in English for ONE OK ROCK so today I've added a couple new articles: a guide to PRIMAL FOOTMARK and a guide to OOR concerts in Japan! I hope these articles will be useful to those who wish to join PF or go see the band in Japan.
Check out the new guides here!