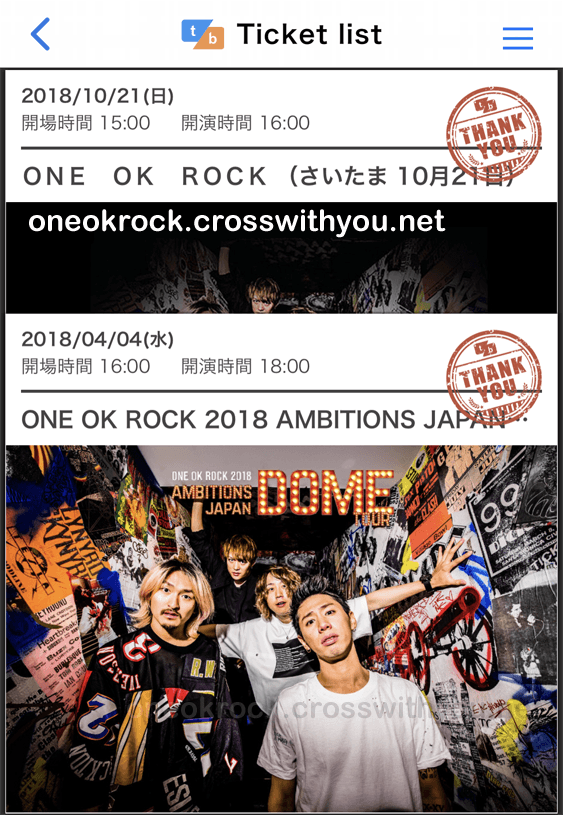 It is the dream of any overseas OORer to see the band in their home country, but getting tickets can be next to impossible if you don't know how to navigate around Japan's confusing ticketing system. This guide gives you a quick rundown of the Japanese concert scene and how ticketing works.
Requirements
So you wanna see ONE OK ROCK in Japan, huh? That plane ticket to Japan is the easy part because unless you are using some kind of ticket proxy service, you will need the following in order to apply for tickets: an address in Japan, a Japanese phone number, and in some cases, a smartphone and/or Japanese credit card. If you live in Japan then these won't be major hurdles (except maybe the credit card part), but if you are hoping to catch a concert while on vacation or something then you will need to use a ticket proxy service or have a friend living in Japan to help you out.
*LINE Ticket will require a Japanese LINE account in addition to an address in Japan and a Japanese phone number.
Ticket Services
There are three major ticket services in Japan: Ticket Pia, Eplus, and Lawson Ticket. ONE OK ROCK utilizes all three services, and beginning with Eye of the Storm Japan Tour 2019-2020, they've also started using LINE Ticket.
Ticket Lotteries
Unlike overseas concerts where tickets are put on sale and it's a free for all, ONE OK ROCK (and most other artists) use ticket lotteries to sell their tickets. There are generally several rounds of lotteries on each of the different ticket services. You can put in entries at all the ticket services to increase your chances of getting tickets.
Each ticket service may have different dates for their lotteries, though sometimes they might be the same. You must put in an entry during the application period, and then the lottery results are announced at a later date, usually a few days or a week after the application period ends.
If you are a member of PRIMAL FOOTMARK, you will have access to member-exclusive ticket lotteries. These lotteries are people's first shot at concert tickets because they occur before any non-member lotteries, and they are your best chance at tickets to ONE OK ROCK concerts. Find out more about PRIMAL FOOTMARK here.
Aside from PRIMAL FOOTMARK and general lotteries, there are also lotteries through paid services such as Amuse Mobile, SOGO TOKYO (Kanto area only), and Yumebanchi (Osaka only). Each require monthly paid memberships, but you can just sign up only for the month(s) that the lottery is active. The actual lottery entry will go through one of the major ticket services.
It is best if you can get tickets through a ticket lottery so you don't need to fight with the system during general sales. Of course, the lotteries are all about luck though. If you are lucky enough to get tickets through a lottery, be sure to pay for them!
Payment Methods
Scored tickets to a concert? Congrats! Now it's time to pay for them. There are generally three payment methods you can use for tickets: credit card, convenience store payment, and net banking.
Credit card is obviously the easiest since it doesn't require any action on your part. Your card will be automatically charged when you win tickets, and in some rare cases, you can find out that you've won tickets before the lottery results officially come out based on the charge on your credit card statement. The hardest part about credit card payments is that the credit card must have been issued in Japan. Ticket services do not accept foreign issued credit cards and if you try with one, you will just get an error. Getting a credit card in Japan can be difficult for some. I recommend Epos Card since they don't seem to decline anyone. You can apply for an Epos Card at Marui department stores in Japan. They will give you a card the same day.
Convenience store payments are just that, payments made at the convenience store. This is the best choice for people who don't have a Japanese credit card. If you choose this method, you will be given a code that you need to use at the convenience store to pay for your tickets. There will also be a payment deadline date. Make sure to pay for your tickets by this date or else you will lose them! Once the payment deadline passes, there will be no chance for you to pay for the tickets or get back the tickets that you won. Keep in mind that the convenience store you need to make your payment at will depend on which ticket service you used. Tickets won from Pia can be paid for at 7-11 or Family Mart, Eplus tickets at any of the major convenience stores (7-11, Family Mart, Lawson, or Mini Stop), and tickets from Lawson Ticket can only be paid for at Lawson or Mini Stop.
Last is net banking (falls under "e-context" for Eplus). Using the Pay-easy module, you can pay for tickets either at an ATM or online through your bank's website or mobile app. You will be given a couple codes that you need to enter which will bring up the info for your ticket payment.
The accepted payment methods may be different with each lottery. Some only accept credit card so if you are living in Japan then I highly recommend applying for an Epos Card.
General Sales
After all the rounds of ticket lotteries, there will be a general sale where tickets are sold on a first come, first serve basis. You can try to get general sale tickets either online or at a convenience store (Family Mart for Pia, 7-11 for Eplus, Lawson or Mini Stop for Lawson Ticket). For tickets online, you will need to go to the ticket service's website, and for tickets at a convenience store, you will need to use the ticket terminal at the store. Some general sales may be limited to online only.
With general sales, be prepared to get error messages all the time and lots of pages timing out. The server will be overloaded due to the increased traffic of people trying to get tickets. Even if it says tickets are sold out, you may still want to continue trying for at least an hour since sometimes tickets are re-added to the pool.
Receiving Your Tickets
Whoo hoo! You've paid for your tickets! But how the heck do you receive them? Tickets for general sales are available to be picked up immediately after you've paid for them. If you got them through the ticket terminal at the convenience store then you just need to bring your receipt to the cash register to have the cashier print them for you. If you did the general sale online then you will need the code given to you after you've completed your payment and bring it to the convenience store to get your ticket. At 7-11, you just need to show the code to the cashier and they will do everything for you. At all other convenience stores, you will need to print a receipt at the ticket terminal and bring that to the cashier.
For tickets won through lotteries, ONE OK ROCK now primarily uses electronic tickets. This is where the smartphone requirement comes in because you can only download your tickets through a smartphone. ONE OK ROCK uses the Tixeebox service for tickets won through the three major ticket services. You will need to install the Tixeebox app on your phone. When the tickets become available for download, you will need Password 1 (your ticket exchange number) and Password 2 (phone number used when you applied). Use the Tixeebox app to read the QR code for your specific concert and enter the two passwords on the designated page. Your tickets should then be downloaded to the Tixeebox app and you'll be able to check your seating from there.
If you won your tickets through LINE Ticket then you will be able to download your ticket through the LINE app.
Some later lotteries may give you the choice of a paper ticket which would need to be printed at a convenience store or mailed to you. Electronic tickets can generally be downloaded a week or two before the concert date.
When entering the venue, you will need to show the staff your ticket. For electronic tickets, they will need to confirm the ticket on your phone by pressing a button so you will need an active internet connection. A screenshot will not work.
Combating Scalping
Ticket scalping has become a huge problem in Japan in recent years, so much that they passed a law banning scalping. That's right, it's against the law to resell tickets for profit in Japan. How much this law will be enforced is anyone's guess. ONE OK ROCK tickets are of course often scalped. To combat this, stricter standards have been put in place to combat it, and unfortunately this has also made it more difficult for foreigners to get tickets legally.
Registering for any of the ticket services is already a chore if you don't live in Japan. In order to activate your account, you must enter a code sent by SMS to verify that the phone number you entered is valid. This makes it so that people can't create multiple accounts to cheat in the lotteries, and you can't apply for any lotteries until your phone number has been verified.
In the case of the with Orchestra tour, you had to enter both your phone number and the phone number of the person you plan to go with on the lottery application. You couldn't change any of this info after the entry deadline, and in order to download the ticket, you had to call Tixeebox from the phone number you registered so they could make sure that only the person who entered the lottery is downloading the ticket. It is uncertain if this system will be used again since it was a hassle even for people who wanted tickets for themselves and not for illegal resale.
Names are printed on all tickets. You are obligated to show a valid ID to venue staff should they ask you, and if the name on the ticket does not match your ID, you may be refused entry without any refund. Some ticket proxy services offer to write you some kind of letter saying that they give you permission to use the ticket, but there is no guarantee that venue staff will accept such letters. This is the risk you accept when using proxy services or try to enter the venue with tickets not under your name. The up side is that it's not too likely that the names on tickets will be checked since there are literally tens of thousands of people trying to get in. (They did check every single person's ID for the ELLEGARDEN concert though!)
Lastly, since the with Orchestra tour, tickets are now limited to two per entry, down from four. This means that if you want to go with friends, you will only be able to be next to one of them at most, and the others will have seating elsewhere in the venue (assuming you're all even able to get tickets). [Edit 2022/12/06: The Luxury Disease Japan Tour tickets have a max of four per entry so they may have gone back to the old limit.]
Seating
Unlike overseas concerts where seating can be chosen beforehand or are first-come-first-serve, ONE OK ROCK concert seating is all random. The only choice you will have, depending on the venue, is between arena standing or seating in the stands. Standing tickets behind the stands may be available at certain venues, but generally these tickets are the last to be released and aren't announced until the later rounds of ticket lotteries.
There are no chairs available in the arena, hence the name "arena standing." Your ticket will have a block number (usually a letter and a number) and another number. The arena is separated into different blocks, starting with A1 on the left. B block is behind the A block, C behind B, etc. The other number determines the order you get to go into the block, with lower numbers going in earlier. The way the arena is divided depends on the venue and the tour's stage setting. Small children are generally not allowed on the arena floor.
Seating in the stands is pretty straight forward. Your ticket will have a row number and seat number. Certain venues, especially very large ones, may also include a door number which will tell you the closest entrance to your seat. Stand seating is good for short people like myself since the seats are built on an incline where each row is higher than the previous one.
Which kind of seating is better depends on your preference. If you want to mosh then the arena is your only choice since you can't do that in the stands. Arena standing tickets give you a chance at being close to the stage, but if you draw a block in the back or have someone tall in front of you then it may be hard to see. Of course, there's also the chance you might be really close to the sub-stage if there is one. Stand seating allows you to be more relaxed and you don't have to worry as much about tall people in front of you due to the rows being built on an incline. You can also enter the venue more leisurely with stand seating because no one is going to steal your seat. With arena standing tickets, everyone goes inside in order of their block and number so you'll want to go in right away when your block is called or else you might be at the back of the block.
Keep in mind that even if you choose a seat in the stands, you'll probably be standing the entire concert anyway because no one really sits down while the band is performing. Some venues don't allow moshing or diving so make sure to see if there are any restrictions at your particular show.
Tour Merch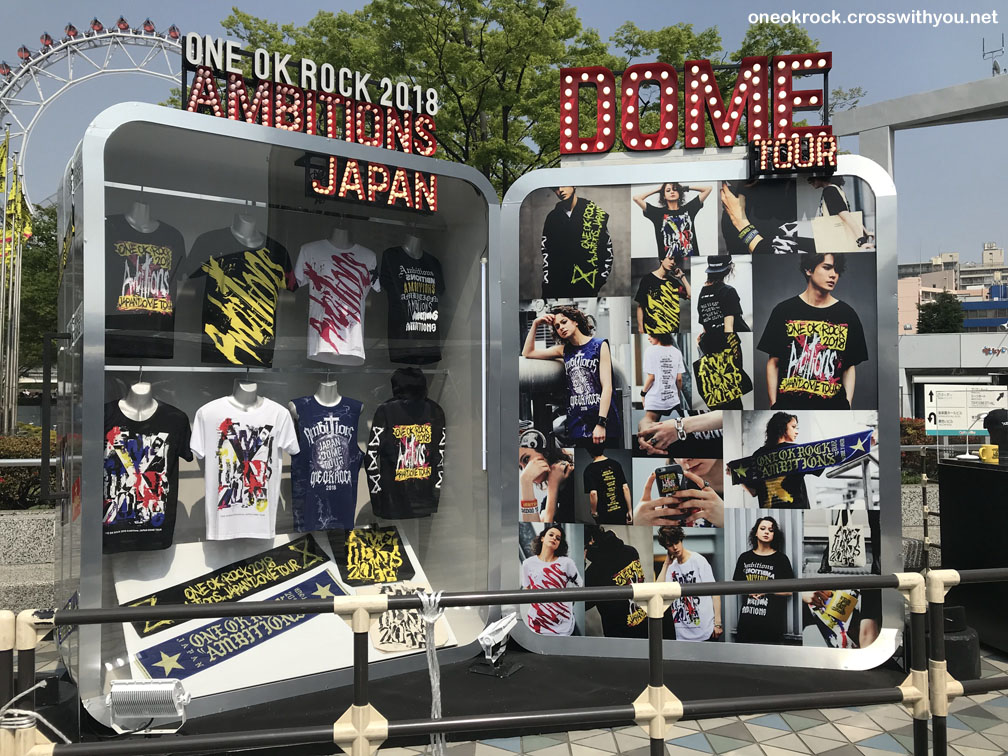 Of course you want some tour merch to show the boys your support! Tour merchandise can be purchased at the concert venue before, during, and after the concert, but the easiest way to get your hands on them is by ordering from A!SMART. In some cases this may not be an option depending on when tour merch is announced and such, but if you have the opportunity to order the merch online and receive it before the concert, take it. It's not fun lining up at the venue and that should really only be a last resort.
Both cash and credit cards are accepted at the merch booths at the venue. Foreign credit cards should work too.
Concert Etiquette in Japan
Tickets, check. Seating, check. Tour merch, check check check! Now how do you blend in and enjoy yourself at the concert? First off…
PHOTOGRAPHY AND RECORDING IS PROHIBITED AT CONCERTS IN JAPAN.
This is the biggest difference between ONE OK ROCK concerts in Japan and overseas. They do not allow you to take photos or record video or audio at concerts in Japan. That's why you don't see anyone with their phones out in Japanese concert footage. Please be respectful and follow this simple rule.
It's not uncommon overseas for everyone to sing along with Taka throughout the entire song, but in Japan, the audience generally only sings during certain parts. This isn't so much a rule, but in the interest of not annoying all the people around you, you should really only sing when everyone else is singing. If you've seen video of their previous concerts in Japan then you probably already have a good idea of when the crowd sings along. That said, when it's time, go ahead and sing your heart out!
You should always respect the space of those around you. That is, try to be aware of how high you're raising your arms or how widely you're swinging them. You don't want to block the view of those behind or beside you. If you are in the stands, in general, you shouldn't raise your arms too high over your head. It's better to stretch your arm out forward instead of upwards, and only raise it slightly above your head. If you are in the arena, you shouldn't bring any bulky items in with you. You will want to keep large items in a coin locker or in the cloak area, both so you don't bump into people with it or have people tripping over it, and so you can move around more easily. These aren't really rules either, but it's nice to be considerate of those around you. If you are in the stands then there will be some room for things such as a small backpack under your seat.
Please dress appropriately, especially if you are in the arena. Ladies, you don't want to wear heels which can be painful both for you and for anyone you might accidentally step on. You'll be jumping and moving around a lot while you enjoy yourself (I hope) so comfortable clothing and shoes are a must. Wearing deodorant is also appreciated.
If you have any trash, be sure to take it with you when you leave. OORers have unfortunately been given a bad reputation, especially after Nagisaen, due to all the trash they leave behind. There should be plenty of trash cans around the venue and at the train station where you can throw away anything you no longer need.
If you ever start feeling unwell during a concert, don't hesitate to get someone's attention, whether it be a venue staff or a stranger next to you. Fans take care of each other. That said, help out people around you too if you see someone in need. Things can get pretty crazy especially in the arena.
---
This guide isn't meant to detail every single thing about ONE OK ROCK concerts in Japan, but hopefully most points have been covered and you find it useful. If you are able to attend a concert in Japan then please have a great time!