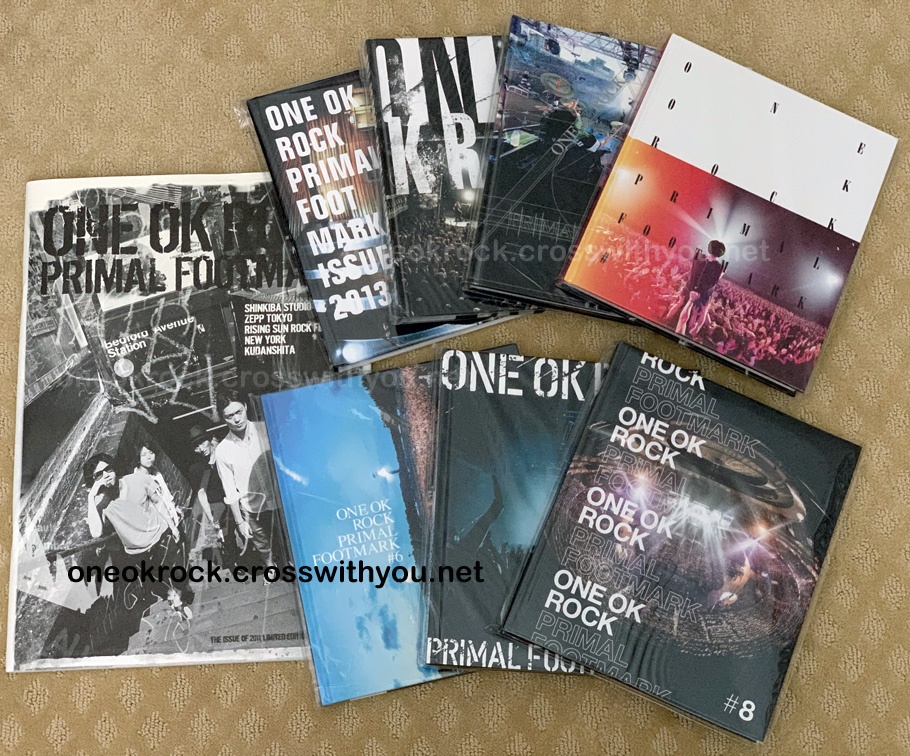 PRIMAL FOOTMARK is a photo book released annually which documents ONE OK ROCK's activities from the previous year. If you're serious about seeing ONE OK ROCK live in Japan, purchase of this book could be your best chance at tickets.
What is PRIMAL FOOTMARK?
ONE OK ROCK is not an idol group, so they are reluctant to have a "fan club" attached to their name. Instead, they release an annual photo book called PRIMAL FOOTMARK which includes a members card that will give you access to exclusive content on the PRIMAL FOOTMARK website. The photo book documents the band's activities from the previous year with photos from their concerts and more, while the PF website is updated a few times a year with concert photos and video messages from the band members. A PRIMAL FOOTMARK membership also gives you access to ticket lotteries which are only available to PF members.
PRIMAL FOOTMARK was first published in 2012 in a newspaper tabloid-like format. They switched over to the current hardcover book format in 2013. The books have been numbered since 2014, instead of using the year. (eg. 2018 is PRIMAL FOOTMARK #7, 2019 is #8, etc.)
How to get PRIMAL FOOTMARK
PRIMAL FOOTMARK can be purchased through ONE OK ROCK's official online shop at A!SMART. For current members, pre-orders which include a special pre-order bonus item generally go up around mid-October. In order to access the pre-order page for this, you must be logged into your PRIMAL FOOTMARK account which is linked to your A!SMART account. The pre-order bonus is different each year, and you will only receive it if you pre-order by a certain date (around November 30). If you are not a current PF member, you can start pre-ordering from around December 1st. The special pre-order bonus will not be included if you are ordering for the first time or miss the pre-order period for current members.
PRIMAL FOOTMARK costs 3500 yen and generally starts shipping in mid-December.
PRIMAL FOOTMARK Web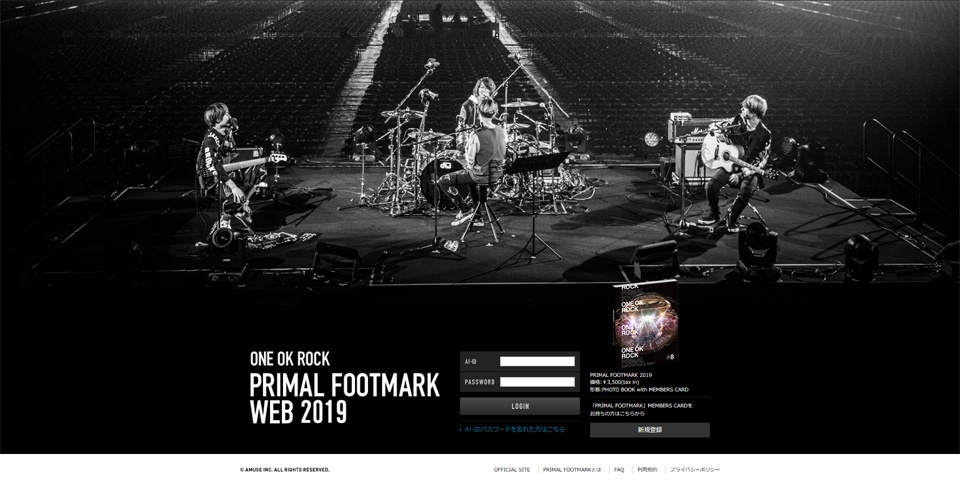 The PRIMAL FOOTMARK member website is at oneokrock-pf.com and is open from around mid-January through December 31st. When accessing it for the first time, you will need the access code written on the back of the members card included with your PRIMAL FOOTMARK photo book. (The card is inside a small pocket at the back of the book.) You must create an A!ID which will become your login for the website (only an email address and your birth date are required). Once you input the PF web access code into your A!ID, you will be able to use that login to gain access to the PF web content.
The PRIMAL FOOTMARK member website includes exclusive photos from concerts, concert reports, and video messages from the band. It is only updated a few times a year.
IT IS AGAINST THE TERMS OF SERVICE TO SHARE OR REPOST ANY PART OF THE PRIMAL FOOTMARK WEBSITE.
This includes, but is not limited to, sharing or reposting any photos, videos, screenshots of videos, or text found on the website that is only accessible by logging in. If you sign up for the PRIMAL FOOTMARK website, please be sure to know and follow the rules accordingly.
PRIMAL FOOTMARK Ticket Lotteries
In addition to a very high quality photo book and access to member-only web content, a PF membership will also allow you to participate in member-exclusive ticket lotteries for ONE OK ROCK concerts in Japan. These ticket lotteries occur before any lotteries for non-members and are your best chance at getting tickets to the band's concerts in Japan. That said, it is highly recommended that you sign up for a PF membership if you really want to see them in Japan. There are also many people who purchase multiple memberships to increase their chances of scoring tickets.
Please keep in mind that with the ever growing popularity of ONE OK ROCK, it is becoming increasingly difficult to get tickets to their concerts in Japan. A PRIMAL FOOTMARK membership does not guarantee that you will be able to get tickets, nor do they guarantee good seating. Learn more about ticket lotteries here.