Director. Editor. Videographer. Photographer. Based in London and Essex in the UK, Jamie Carter is a man with many titles. In recent years, his photos and videos have become an integral part of documenting ONE OK ROCK's journey when they tour in Europe. Jamie also contributed to NHK's documentary program, ONE OK ROCK World Tour Document, which aired on October 19, 2019.
I asked Jamie a few questions to learn more about his work and his relationship with ONE OK ROCK.
---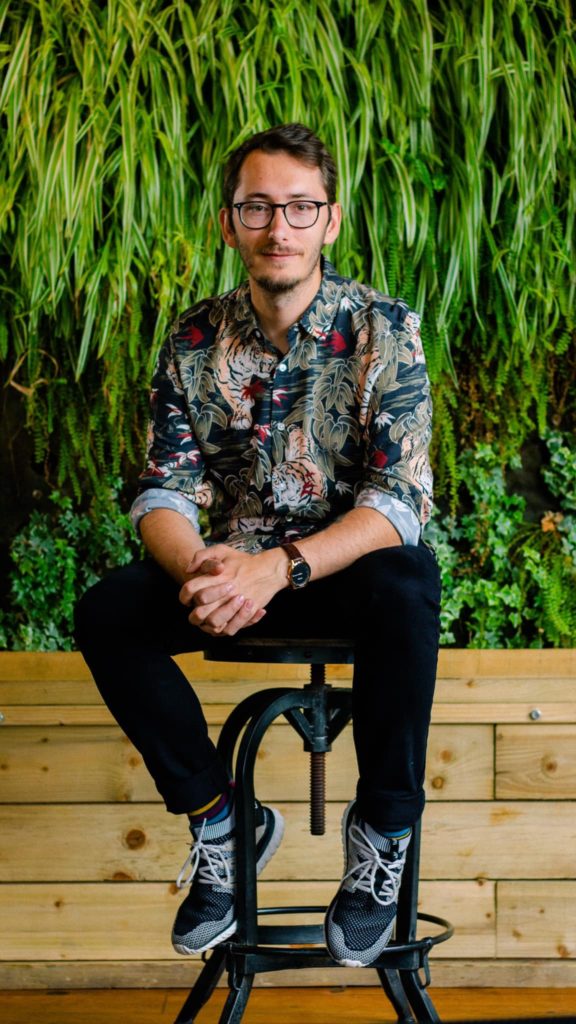 English
You're sort of a jack of all trades when it comes to content creation. How did you get started?
JC: Ha, I guess I am a bit of a jack of all trades, which I don't think is a bad thing these days – as long as you make sure your ability in all of those skill sets is high. It doesn't work to just do an OK job of multiple things, you have to work hard to be at a really good level of all of them – and I do think you need to know where your real talent lies amongst those roles. For me it's actually editing I think!
I also think it's really important to learn and understand multiple parts of video making – by understanding editing I shoot better content, and by understanding production I feel like I make more natural and honest Music Videos when I'm directing. It's important to always be able to adapt and learn.
My career started with some work experience during a break between my 2nd and 3rd year of university. I was studying Creative Music Tech, learning how to record and produce bands as well as playing instruments, but also a lot of the scientific reasoning behind sonics etc.
I'll be honest and say I have never had an amazing time in education, never really fulfilled any potential and really struggled to engage and learn, all the way through school and university. My sister-in-law got me a week's work experience at EMI, the record label in London, where she was working to help out the Audio Visual team who were basically the in-house content team before "content" was a real thing. The head of the team at the time just completely threw me in at the deep end, handed me a camera on the first day to go and shoot with and forced me to learn on the job. Same with editing. By the end of the week I'd shot some footage for a TV special, done sound operating on Robbie Williams' worldwide comeback interviews, and edited a short team showreel. It really sparked something in me. Before that, I'd never really been interested in filming and had never properly used Final Cut or editing software. Thinking back, I was always really interested in Music Videos and live concert DVDs but I'd just never really realised it was something I could do, let alone be good at.
From that point on I went back to university, took up a film elective, got a First in that, finished my final year and offered to go back to EMI for more unpaid work experience. It was a case of right person, right place and right time, as that boss who had shown such confidence in me decided to leave, and that opened up a temporary paid position for me at the label as a department coordinator – that was nearly 10 years ago now.
What equipment do you use for photos and video? What do you use to edit them?
In terms of my kit I use when I'm on tour, I am constantly upgrading, but currently I have a Sony α7 III which I use as my main camera for video and stills, and a Sony α6500 as a lightweight camera for my gimbal.
I try to have my kit set out so that I can "run and gun" really easily as I am really interested in capturing natural moments which means you always need to be ready – I haven't got time to be worrying about loading cameras on and off gimbals etc.
I've got a variety of lenses that I take out with me – but I usually just use a Sony 24-70, Sigma 16mm and 30mm primes, and my Sigma 10-20mm. This gives me a good range of options during a show.
In terms of editing, I run an iMac at home for editing but whilst on the road I have my MacBook Pro with Lightroom and Premiere for photo and video editing.
What are some things you keep in mind when shooting a concert? What do you hope to inspire in people when they look at your work?
When I'm shooting my first thought is always variety. I want to make sure I get as many angles from as many different points of the venue as I can. It's usually a case of ticking off a stage shot, pit shot, in the crowd shot, and some form of back of the venue shot. Within those positions, I want to make sure I can get shots of each member, wide shots of the stage, shots of fans engaging, and huge wides of the whole room.
I also want to get a mixture of smooth gliding shots, slow motion shots, and energetic handheld stuff so that I have a variety of "feelings" and dynamics. That way, when it comes to editing video, I have enough variety to keep the viewer engaged in my videos. I always think from an editors point of view basically – even if I'm not editing the final thing, I want to make sure I've given that editor the right tools to be able to make something great.
In terms of what I hope people think of when they see my work, I haven't really thought of that before… I guess I always want to make someone say "wow". Whether it's highlights of a show, or a music video, or anything, I always want it to be the absolute best it can be. I love music and everything I make needs to always feel connected to the song and flowing in the right places.
I basically want every edit I do to be a mini music video! Each section should slow down or speed up at the right time to match the dynamics of the music, and the shots should all flow – it should feel natural to watch.
I believe you started shooting for ONE OK ROCK in 2017. How were you approached and what were your first impressions of the band and their music?
Yes indeed, the first thing I shot was the "Ambitions" European Tour at the end of 2017 – I joined the tour in the middle until the end.
I actually first met Taka in Tokyo of all places! It was early 2017 and I was working with Ed Sheeran, capturing his worldwide radio and TV promo trip for the Castle On The Hill/Shape Of You launch, and I believe either Ed or his Japanese label invited Taka and Jamil to dinner with us all.
Jamil (I'm sure you know who Jamil is, but he is a creative collaborator with the band) and I got chatting about videos and stuff and I offered to shoot some bits for the band when they were over in the UK, then sort of forgot about it.
To be honest, I didn't really expect anything to come of it, but then out of the blue later in the year, Jamil emailed me asking if I could cover the filming of their tour and looped me in with Amuse, and that was that!
One of my friends had actually mentioned OOR to me before, saying how much he loved them, but I'd never had a chance to check them out. However I did get a chance to film a part of their set at Reading Festival that year, but fully experienced them for the first time when I shot them at Shepherds Bush Empire on my first night of the Ambitions tour, and was honestly just blown away by their energy – and mostly by Taka's vocals, which still impress me at every show.
You've worked with many high profile Western artists including Linkin Park, Ed Sheeran, and Coldplay. How different is it to work with a Japanese band like ONE OK ROCK?
I guess the real difference is the language barrier – as obvious as that sounds.
I always feel I've been quite good at "reading the room," so not overstepping boundaries and always stopping filming at the right time, and that skill has been essential as obviously with the guys, they don't sit around and talk in English to each other!
But in terms of working with them that's the only real difference. You just have to know when to shoot and when not to shoot, and that's the same with any person. No one likes a camera in their face constantly capturing their every move, and it's pointless to film certain things that don't entertain an audience. Often less is more.
You mentioned a language barrier. How do you overcome that to get your ideas across?
The language barrier is often helped by their manager who speaks really good English, so if there's something specific I want to do, I explain to the band with him there in case there is anything he needs to elaborate on. But Taka's English is really great; he's been working really hard and understands nearly everything now – on the last tour I was trying to teach Ryota and Tomo different English accents and how we say "worter" instead of "water" in the south of England! They found it hilarious.
Having worked with both ONE OK ROCK and Ed Sheeran, what was your reaction when it was announced that ONE OK ROCK would be opening for the Asia leg of Ed's Divide Tour? How does shooting them in much larger venues compare to capturing them on smaller stages?
I was actually really excited, weirdly! Even though I wasn't a part of that tour, it felt great to see two groups of people who are really kind, honest and thoughtful touring with each other, and I'm so glad it went so well for everyone.
Although I've filmed Ed at Wembley Stadium,1 I've only been lucky enough to shoot ONE OK ROCK in smaller European and American venues, which obviously are nowhere near as big as the venues in Japan – probably the biggest was the recent Paris show at La Seine, or the previous Paris show at Zenith.
I'll be honest though and say I do always enjoy larger rooms because it's easier for me to get in and out of the photo pit and around the venue! But I do enjoy those small venues where Taka is right in the crowd and I can get some really cool stuff.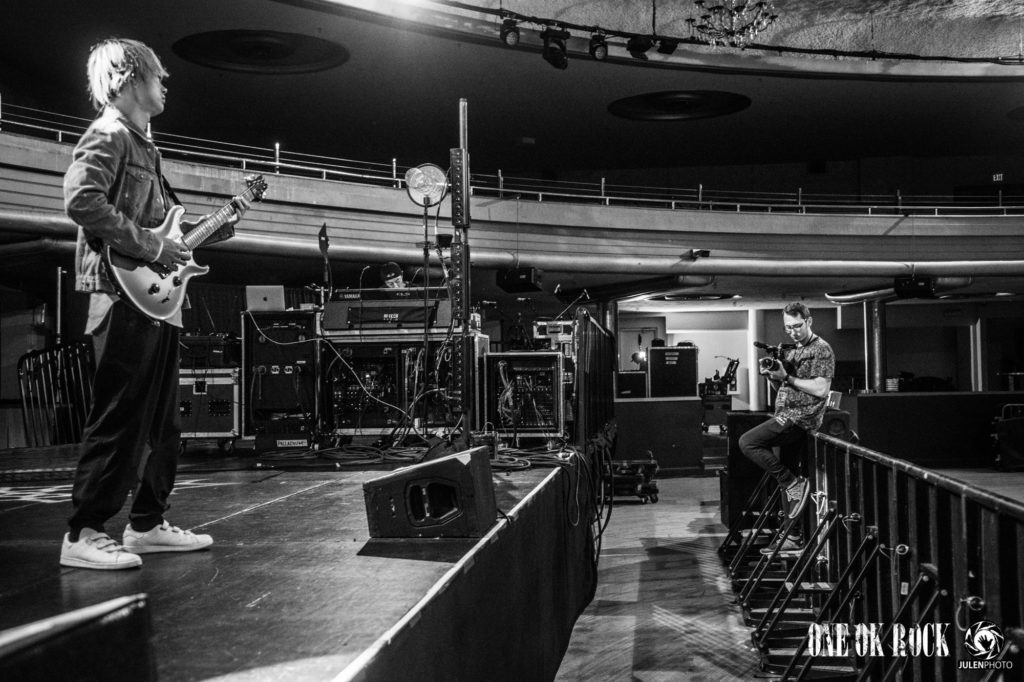 What was the experience like collaborating with Japanese staff for the World Tour documentary that aired on NHK? How did you divide up the work and were you given any specific instructions?
Working with NHK on the documentary was a strange experience for me – as it was the first time with OOR that I was filming but not turning around highlights videos, and I knew I wouldn't be editing the piece either. It meant I was shooting a lot more because I wasn't worried about having to sift through all the footage to find the good bits! I also wasn't using my usual kit – I had a Sony FS5 to shoot on for the whole tour, and I had to shoot in a different style to how I usually would for creating highlights videos and tour roundups.
Don't get me wrong, it was fun, but it was very different to what I am used to when touring and just took some getting used to. I wasn't watching back the footage every night so when it came to watching the documentary I was sort of like, "Oh yeah, I forgot that I filmed that!"
The crew who were leading the documentary gave me a run down of camera settings and a few pointers to match things they'd already done, but mostly they just told me to do whatever I wanted! I think it was because I have a close relationship with the band and capture things in a different way to how a Japanese crew would, so they would choose shows that they felt were key to capture and bring along a small crew, then leave me to capture the rest by myself. It was nice that they trusted in me in that way.
We saw in the documentary that life on tour isn't exactly luxurious. What was it like traveling on the tour bus with the band and spending weeks at a time on the road? How did you all keep yourselves entertained? Who got dibs on which bunk?
The band were pretty tired by the time the European leg came around. They'd nearly been touring non-stop since they started in America so we used to spend time in between soundcheck and show just hanging out and chatting, making jokes. The band would chat to their families at home a lot, it was just relaxed and a nice atmosphere. Obviously most of the crew are Japanese so they had also been away a long time also.
The band always get first dibs on bunks! Then it's a free for all. I like to try and stay close to the band's bunks so I can hear if I need to jump out and film anything, always got to be ready!
How has your relationship with the band members changed over the years?
It was interesting starting out in 2017 going on a tour with a Japanese band and mainly Japanese crew, who spoke very little English – it was actually quite daunting. But the band and crew have always been amazingly kind and hospitable to me, and over the years we have grown much closer; I definitely consider the band friends now, and we keep in contact outside of tours – especially Ryota.
They are all extremely nice and kind people, genuinely four of the nicest people I've ever met in my career. They let me be as creative as I want, and always thank me and compliment me on my work which is really lovely of them – it makes me want to create better and better things and I think we have a great working relationship.
Do you have a favorite photo you've taken of the band?
Damn. That's a hard question!
I've taken probably on average 600 photos at every OOR show I've ever been at, and I usually cut those down to around 80-100, so choosing a favourite is always tough! I always prefer my most recent work, because I'm always learning and evolving so usually whatever I've shot most recently is my favourite at that point. I honestly couldn't choose a favourite though. For now I like this one, but I'll change my mind immediately after this!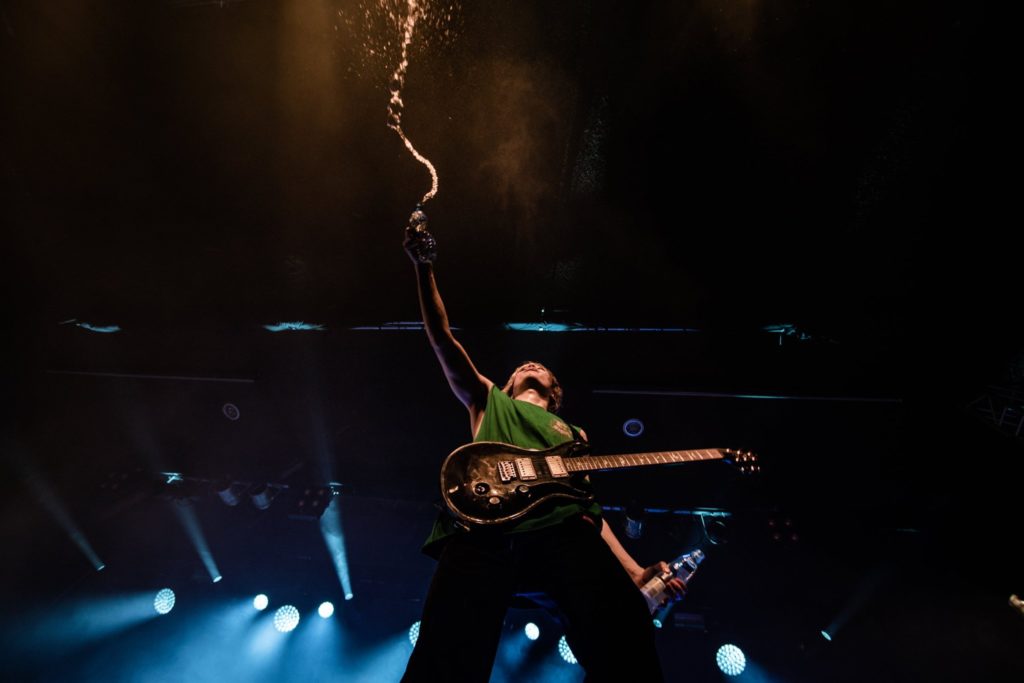 But actually maybe my favourite photo is this – two Polaroids I took of Taka and Ryota with my wife when she was pregnant; it brings me a lot of joy.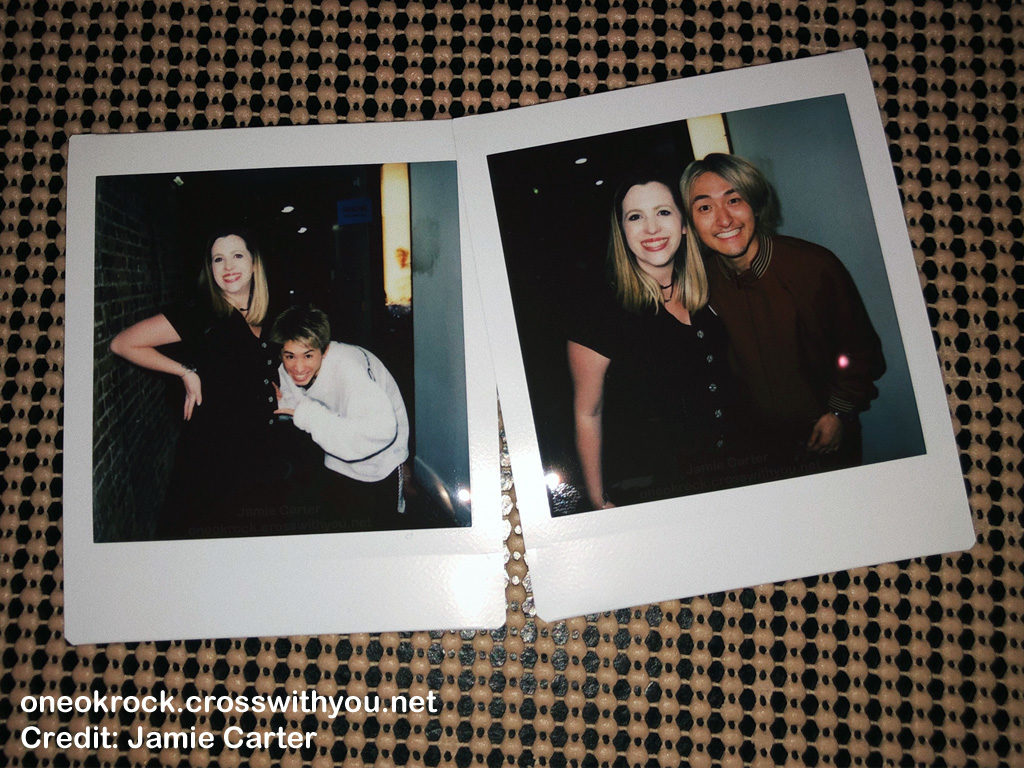 The band always goes out of their way to say hello when she is at their shows and it's great to be able to include my family life with my professional life.
Congratulations on the upcoming baby! Speaking of family, I believe you were there when Tomoya first showed his newborn to the band. What was the atmosphere like?
Everyone was very happy for Tomo when his baby was born! We had been talking a lot about babies on the last tour, myself Ryota and Tomo, it seemed to be a running theme! With Ryota having a little girl and Tomo having another baby and me expecting a little girl of my own, it was a nice thing to all talk about.
Please share with us some fun memories you've had with the band.
Fun memories – it's always fun spending time with the band, because they are all so sweet and kind! But it's hard to pick out moments because when you're on tour it all seems to roll into one!
On the last tour I spent the day with Toru in Budapest and it was great because we just hung out and chatted about life, which we hadn't really had the chance to do. The face masks thing from the documentary was also EXTREMELY funny, even at the time. And just generally spending time with Tomo! – he is hilarious, and a bit crazy, it's so much fun.
Oh, and on the last tour Ryota and Tomo got me to say childish things in Japanese to each other, which they found incredibly hilarious.
Yeah? Like what?
I don't remember what I had to say in Japanese, but it was silly things not rude ones, I think I told Tomo he has big ears at one point!
Do you think your apprentice Tomoya has any potential?
Hahahaha. Yes, he has potential to one day be as good at drums as me. You meant drums right?
All the band members enjoy picking up the camera occasionally, and it's always quite funny watching them try to learn how to use it!
How would you describe ONE OK ROCK to someone who was not familiar with them?
The best way to explain ONE OK ROCK to someone new is to show them a live show. Across their set you get catchy riffs, amazing harmonies, some really heavy sections, and big singalong choruses. It's hard to put them into a genre – they can do everything! It's rock, it's pop, there's some electronic grooves in there, it's just great to see their evolution without ever losing who they are.
I am a genuine fan of their music and sit and listen to it when I'm not working with them!
That's great to hear. You know I have to ask you what your favorite song is then.
Hmm… favourite song… that changes all the time too!
Favourite song off the albums is probably Stand Out Fit In or Jaded (because I like playing it on drums!). But live it has to be Mighty Long Fall because I really enjoy the heavy ending they do live!
Definitely, gotta love the breakdown at the end of MLF! A lot of people were disappointed it got dropped from the setlist on the Eye of the Storm North American Tour.
It must be hard for a band to keep playing songs they wrote a long time ago, same as it is for me to see videos I made ten years ago, because you feel you've grown a lot since then. But as fans, we still enjoy them the same! It's a weird one, but I do love that song!
That's certainly understandable. Lastly, do you have any words for our readers?
I guess I hope people enjoy my photos and videos, and I hope I help in some way to grow the fanbase more and more outside of Asia.
It's a pleasure to work with the band and I hope it carries on for many more years!
日本語
ジェイミーさんはいわゆるコンテンツクリエーションのなんでも屋ですが、始めたきっかけについて教えてください。
JC: あはは、確かになんでも屋かもね。悪いことじゃないと思うけど、やること全てに実力がないとダメだ。色々なことをまあまあ出来ても通じない。すべてハイレベルになるために頑張らないとダメだし、その中から自分が得意なスキルは何なのかも知るべきだ。僕は特に編集が得意だと思う!
動画製作を勉強し、詳しくなるのも大事だと思う。編集の仕方を良く理解できるから撮影が良くなるし、そして製作を理解できれば監督を務める時にもっと自然で真っ直ぐなミュージックビデオを作れる。いつでも適応と学習できることが大事だ。
僕のキャリアは大学の2年と3年の間の休みに小さな仕事で始まった。バンドのレコーディングやプロデュース、楽器の弾き方、音響の科学的推論などのクリエイティブミュージック技術を勉強した。
正直言って、勉強は得意じゃなかったし、高校や大学まで結構苦手だった。ロンドンにあるEMIというレコードレーベルでオーディオビジュアルチームの手伝いをしていた義姉が僕のために実習できる場を作ってくれた。チームの担当者は僕に何も教えないまま、初日にカメラを手渡して撮影させた。やりながら学ぶしかなかった。編集もそうだった。そうして一週間内に、テレビスペシャル用の短い撮影、ロビー・ウィリアムズの復活インタビューの音響製作、チームの短いデモも編集した。ピンと来たね。それ以前はフィルムに興味なかったし、ファイナルカットや編集ソフトもちゃんと使ったことがなかった。今考えてみれば、ミュージックビデオやライブDVDにずっと興味を持っていたけど、自分が作れるもの、しかも、特技になるものだなんて思ってなかった。
その後、大学に戻ってフィルムの授業を受けて、学位の一級を取って、最後の学期を完了したらEMIに無給の職場体験をお願いしてみた。タイミングが良くて、前に僕を信用してくれた担当者がちょうどその時に退社して、レーベルで部署内のコーディネーターの有給の仮ポジションが空いてた。これは10年前の話だ。
写真や映像の機材を教えてください。編集には何を使いますか?
いつも機材をアップグレードしているが、ツアー中のキットは現在映像とスチルのメインカメラとしてソニーα7 III、そしてギンバル用の軽いカメラはソニーα6500を使っている。
自然な景色を撮りたいから、いつでも構えられるような使いやすいキットが必要だ。ギンバルにカメラを付けたり取ったりする暇がない。
色々なレンズを使うけど、普段はソニー24-70、シグマ16mmと30mmのプライムとシグマ10-20mmだね。これでライブ中に結構選択肢がある。
編集に関しては、家ではiMacで編集するけど、外出中はMacBook ProでLightroomとPremiereを使って写真や映像の編集をする。
ライブを撮影する時に、何を気にしていますか?ジェイミーさんの作品を見る人に、何をインスパイアしたいですか?
撮影する時に、まずバラエティーのことを考える。会場内ではなるべくたくさんの角度から撮りたい。基本的にはステージ全体、ピット、観客、そして会場の後ろからの写真はとりあえず撮りたい。各位置からメンバー全員のソロショット、ステージのワイドショット、盛り上がっているファンや会場全体が写っているワイド写真も撮る。
色々な雰囲気を表現できるように、スムーズに流れるようなショット、スローモーションのショット、ダイナミックな手持ちのショットのミックスも撮りたい。これで編集する時に、視聴者の興味を保てるようなバラエティーが生まれる。僕はいつも編集者の視点から考えている。僕が映像を編集しなくても、編集する人が素晴らしい映像を作れるための素材を必ず提供したい。
僕の作品を見る時に何を思って欲しいかに関しては、特に考えたことがないね・・・いつも「すごい」と言わせたいかな?ショーのまとめ映像でも、ミュージックビデオでも何でも、いつもベストの作品にしたい。僕も音楽が大好きだし、作る作品はいつでも曲や雰囲気と繋がらなければならない。
僕が編集するものは全部小さなミュージックビデオであって欲しい!音楽のエネルギーとマッチするために各シーンをゆったりさせたり、速めたりする。ショットの全てが流れを大切にして、違和感なく見れるようにしたい。
確か2017年にONE OK ROCKの撮影を始めましたね。どのようにアプローチされましたか?バンドとバンドの音楽の第一印象はどんな感じでしたか?
そう、初めて撮影したのは2017年末の「Ambitions」ヨーロッパツアーだった。ツアーの真ん中ぐらいから終わりまで参加した。
実はTakaとは東京で初めて会った!2017年上旬に「Castle On The Hill/Shape Of You」の発売のPR撮影のためにエド・シーランと一緒に仕事をしていた。その時にエド本人か彼の日本のレーベルがTakaとジャミールを夕食に誘った。
ジャミール(のことを知っているだろうけど、バンドのクリエイティブコラボレーターね)と映像などについての話の流れで、ロンドンに来たら撮影してあげるよとオファーした。その後そのことは忘れていた。
正直何も期待していなかったが、突然ジャミールからメールが届いて、ツアーを撮影してくれないかと依頼され、アミューズと繋げてくれた。それが始まりだった!
前に友達がワンオクのことを話してて、大好きなバンドだと言ってたけど今までチェックする機会がなかった。でもその年のレディングフェスティバルでの公演を撮影できた。初めてワンマンを撮影したのはAmbitionsツアー初日のシェパードブッシュエンパイア公演だった。彼らのエネルギー、特にTakaの歌唱力に正直圧倒された。今でも毎回感心する。
リンキン・パーク、エド・シーランやコールドプレイのような大人気の大物洋楽アーティストと一緒にお仕事をされていました。ONE OK ROCKのような日本から来たバンドとお仕事をするのは違いますか?
言うまでもないかもしれないけど、やはり一番の違いは言語の壁の存在かな。
一線を超えないように良いタイミングで撮影を止めたり、僕は空気を読める方だと思うんだけど、彼らは英語で話し合ったりしないからこのスキルが大事だね。
でも仕事面ではこれが唯一の違いかな。いつ撮影していいか、しない方がいいかを理解すべきだね。まあ、誰に対しても同じだけど。ずっとカメラで撮られるのは誰も好きじゃないから、視聴者が興味のない場面を撮るのは無意味だ。レス・イズ・モアって時がよくあるね。
言語の壁にぶつかる時に、どうやってアイディアを伝えますか?
彼らのマネージャーさんはとても英語が上手なので、具体的な何かをやりたい時は、バンドに説明する時には念のために彼に立ち会ってもらっている。でもTakaの英語はとても良いし、いつも上達するように努力しているから今はほぼ全部理解してくれている。この前のツアーで、RyotaとTomoにイギリス英語の色々な訛りを教えようとした。例えば、イギリスの南部では水のことを「ワーター」じゃなく「ウォーター」と発音する。二人はすごく面白がっていた。
ONE OK ROCKともエド・シーランともお仕事をする経験があって、ONE OK ROCKがエドのDivideツアーのアジア公演でオープニングアクトを務めると聞いてどんなリアクションでしたか?大きな会場ともう少し狭いステージで撮影するのは違いがありますか?
変な話、結構わくわくしてた。そのツアーに僕は参加しなかったけど、優しい、素直なアーティストと共にツアーできて良いね。成功してて本当に良かった。
エドをウェンブリー・スタジアム2で撮影したことがあるけど、残念ながらONE OK ROCKはヨーロッパとアメリカの小さな会場でしか撮ったことがない。日本の会場ほど大きくないけど、僕が撮影した一番大きい会場は多分パリのラ・セインかその前のパリ公演のゼニスかな。
でも正直僕は大きな会場の方が楽しい。フォトピットの出入りや会場中に行きやすいから!それでもTakaがステージから下りられるような小さな箱も好き。結構良いものを撮れる。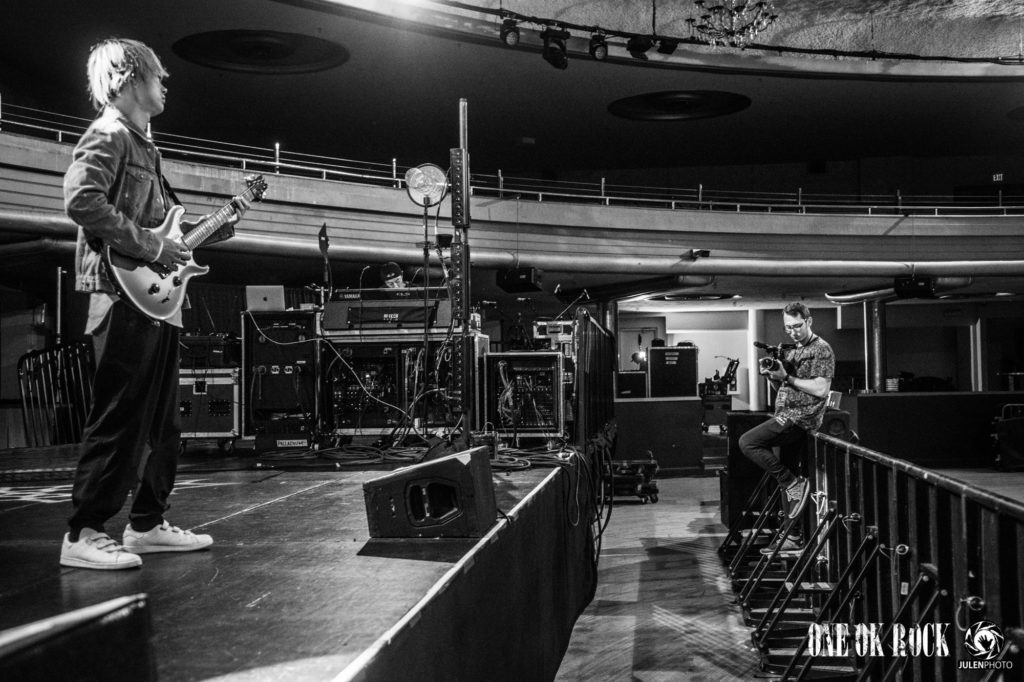 NHKで放送されたワールツアーのドキュメンタリーにて日本人スタッフとコラボしていかがだったでしょうか?どうやってお仕事を分担しましたか?具体的な指示をもらいましたか?
NHKのドキュメンタリーの仕事は僕にとってちょっと変な経験だったね。ワンオクの撮影の中で初めてまとめ映像を提供する必要がなく、編集もしなかった。でも映像の整理の心配がなかったからいつもよりたくさん撮ってた!普段使っている機材も違った。ツアー中にソニーFS5を使って、いつもと違うスタイルで撮影しなければならなかった。
勘違いしないで。楽しかったよ!でもいつもの環境と全く違ったから慣れるまで少し時間がかかっただけ。毎晩撮った映像をチェックしていなかったからドキュメンタリーを見た時、「そういえばあれ撮ったな!」って感じだった。
ドキュメンタリーのクルーがカメラの設定を説明してくれたり、既に撮った映像と合わせられるように色々なヒントを教えてくれたけど、それ以外は僕が好きなように撮らせてくれた!それは多分バンドと仲が良くて、日本人クルーと違う撮り方ができるからだろう。大事だと思われるショーには数人のクルーが撮りに来たけど、他は全部僕一人に任せてくれた。そうやって信頼されて嬉しいね。
ドキュメンタリーでツアー生活の大変さが伝わりました。ツアーバスで数週間バンドと一緒に過ごしていかがでしたか?どうやって退屈をしのぎましたか?車内のベッドの位置の決め方は?
ヨーロッパツアーを回ったらバンドは既にかなり疲れていた。アメリカでスタートしてからずっとライブをやってたから、サウンドチェックの間はリラックスして、冗談を言ったり、お喋りしてた。メンバーはよく日本にいる家族と電話したり、リラックスした気持ち良い空間だった。クルーは主に日本人なので当然彼らも長い間日本から離れていた。
ベッドの位置はバンドメンバーから優先的に決めた!残りは先着だった。僕はいつでも何でも撮れるようになるべくバンドの近くにいたかった。準備はいつもできてる!
初めて会ってからバンドメンバーとの関係が変わりましたか?
2017年に日本のバンドと英語をあまり話せない日本人のクルーと一緒にツアーを回るのは面白かった。正直少し大変だった。でもメンバーもクルーもずっと優しくて、時間が経てば経つほど仲良くなれた。今はバンドを友達だと思うし、ツアー以外の時にも連絡を取ったりする、特にRyotaと。
4人はとてもとても優しくて、キャリアの中で会った人の中で一番親切な人たちだ。僕が思うままにやらせてくれたり、いつも感謝を伝えてくれたり、僕の作品を褒めたりしてくれる。更に良いものを作りたくなるね。とても良い仕事上の関係を持っていると思う。
撮った写真の中でお気に入りの写真がありますか?
それは難しい質問だね!
各ワンオクライブでは平均600枚撮って、80枚~100枚に絞るからお気に入りを選ぶのはいつも難しい!いつも新しいことを学んで、いつも進化しているから最近のものの方が好きだね。一番最近のものがお気に入りになる。一番好きな写真を選ぶのは無理・・・でも今はこれが好き。この後すぐ気が変わっちゃいそう!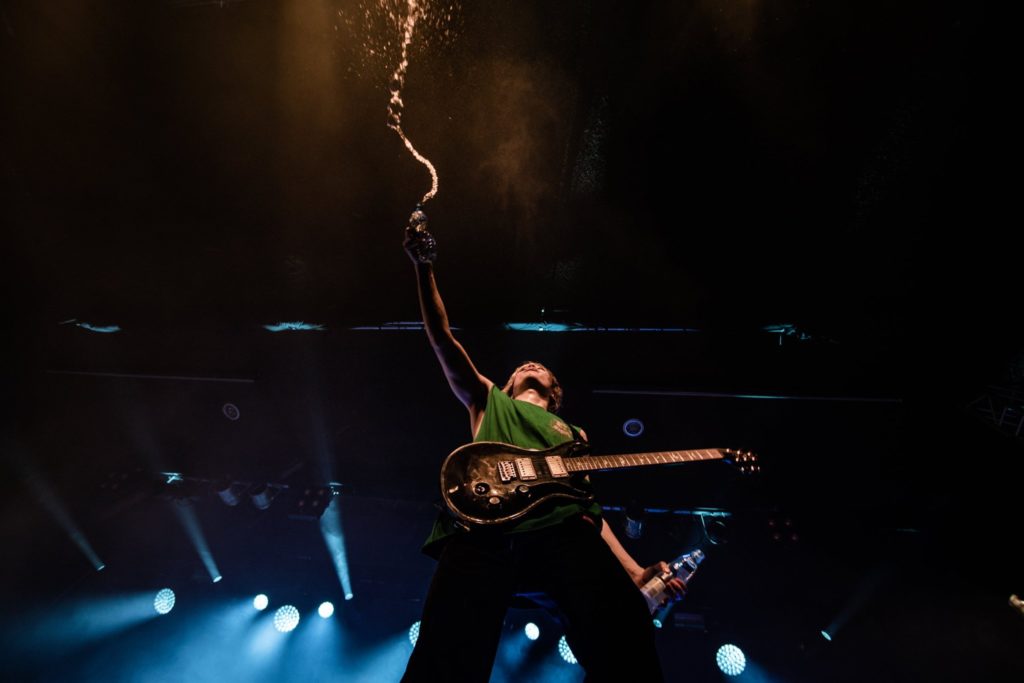 でも考えたら、この2枚がお気に入りかも。TakaとRyotaと妊娠中の奥さんのチェキだけど、見るたびに嬉しくなる。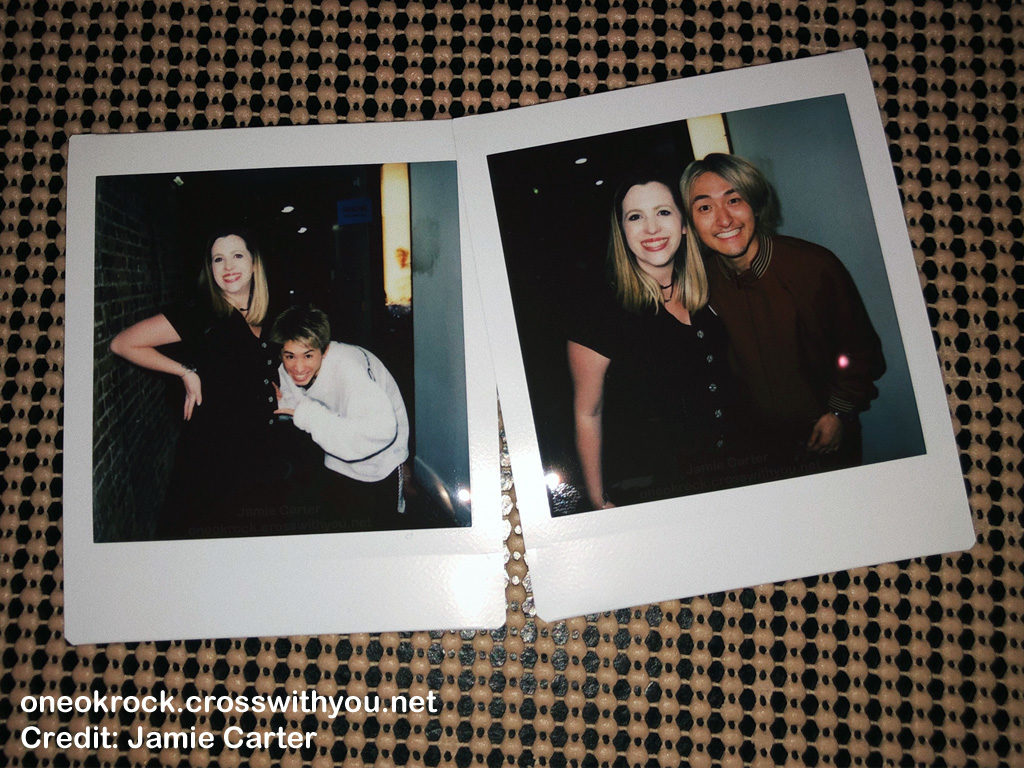 彼女がライブに来る度にバンドはいつもわざわざ挨拶しに来てくれて、こうやって仕事とプライベートを一緒にできて嬉しい。
ご家族が増えますね!おめでとうございます!ご家族と言えば、ジェイミーさんはTomoyaがメンバーに第2子を披露した時にその場にいましたね。どんな様子でしたか?
みんなTomoのために喜んでいたよ!前のツアーの時にRyotaとTomoと子供について話してて、毎回テーマになってるみたい!Ryotaは娘がいて、Tomoは第2子を予定してて、僕も娘がもうすぐ生まれるから、良い会話だった。
バンドとの楽しい思い出をぜひ聞かせてください。
楽しい思い出・・・みんな優しいからバンドと一緒に過ごす時間はいつも楽しい!でもツアー中だと全部ごちゃごちゃになるからココが楽しかった!と選ぶのは難しいね。
この前のツアーの時にブダペストでToruと一日一緒に過ごして、人生について語ったりした。今まであまり話す機会がなかったから楽しかった。ドキュメンタリーでも映ってたけど、あのフェイスマスクのシーンはすごく面白かった。撮った時から可笑しかった。基本的にTomoと一緒に過ごす時間が楽しい!彼はめちゃくちゃ面白くて、少しクレイジーで、楽しいね。
あ、そういえば、この前のツアーの時にRyotaとTomoに子供っぽい日本語を言わされた。
そうですか?例えば何を?
その日本語を良く覚えていないけど、失礼なことじゃなかった。Tomoに耳が大きいとか言っちゃったかも!
弟子のTomoyaはポテンシャルがあると思いますか?
あははは。そうね、いつか僕みたいにドラムが上手くなるよ!ドラムの話だったよね?
バンドメンバーのみんなはカメラを手に取るのが好きで、使い方に苦労している様子を見るのが面白い!
もしONE OK ROCKに詳しくない人がいましたら、どうやって説明しますか?
ONE OK ROCKを説明するにはライブショーを見せるのが手っ取り早い。セットでキャッチーなリフ、素晴らしいハーモニー、少しヘビーなセクション、合唱できるサビも味わえる。何でもできるから一つのジャンルにカテゴライズするのが難しい。ロック、ポップ、エレクトリックグルーブも多少あって、自分を失わずに進化し続けるそんな彼らを見られるのがいいね。
僕は純粋に彼らの音楽のファンで、一緒に仕事していない時にも聴きちゃう!
そう聞けて嬉しいです。じゃあ、お気に入りの曲を聞かせてもらわないと!
ええと、お気に入りの曲・・・それもよく変わるね!
アルバムからはおそらく「Stand Out Fit In」か「Jaded」(何故ならドラムで叩くのが好きだから!)。でも生ならやはり「Mighty Long Fall」だね。ライブでしかやらないあの最後のヘビーなとこが大好き!
あれですね!カッコいいですよね!Eye of the Stormの北米ツアーの時に「Mighty Long Fall」がセトリから外されてガッカリした人が多かったですね。
どのバンドでも昔作った曲をずっとやるのは辛いだろうね。僕も10年前に作った映像を見るのが辛くて・・・あれから成長したと思うから。でもファンとしては昔の曲も好きだよね!ちょっと変だけど、あの曲は大好きだ!
分からなくもないですね。最後に、読者の皆様にメッセージがありますでしょうか?
僕の写真や映像を楽しんでいただけると幸いです。ワンオクのファンベースをアジアから増やすのにお役に立てればと思います。
バンドと一緒に仕事をするのは光栄です。これからも一緒に仕事したいな!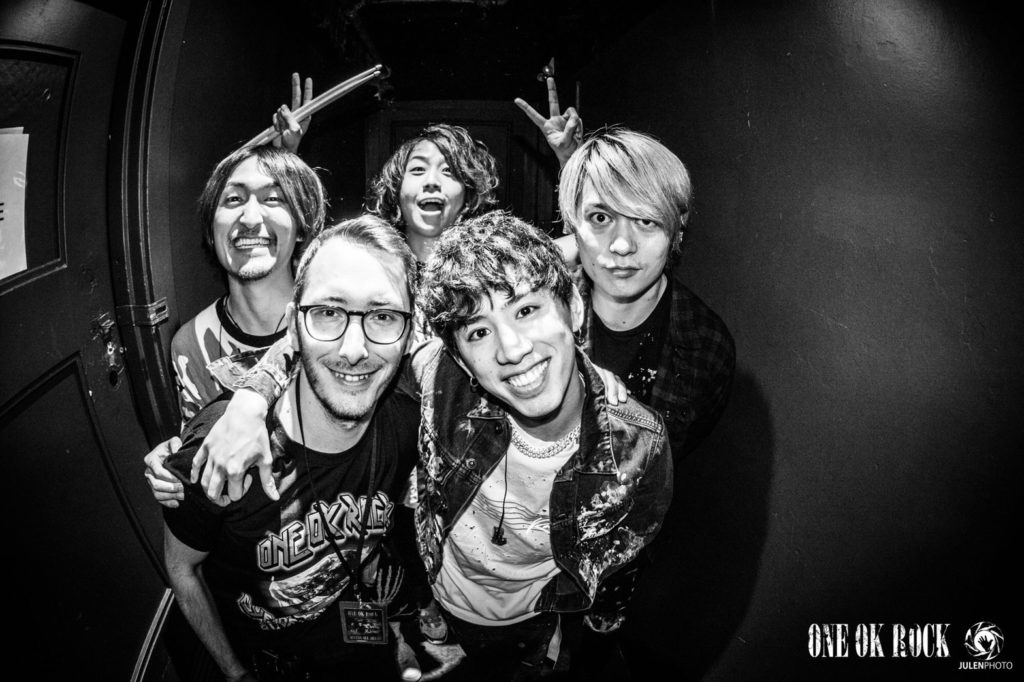 ---
Thank you so much for your time and insight! I certainly look forward to seeing more of your work the next time ONE OK ROCK tours in Europe, and maybe even outside of Europe! Keep up to date with Jamie Carter's work on Twitter, Instagram, and his website!