English
On November 23, 2018, the official ONE OK ROCK YouTube channel released the music video for the band's latest song, Stand Out Fit In. In just a month, the video has garnered over a combined 8 million views between the Japanese and English versions. It has been praised by viewers all over the world for its poignant depiction of the challenges faced by minorities and the efforts they sometimes make to fit in with those around them.
I reached out to director Peter Huang to find out his creative process in the filming of the Stand Out Fit In music video, and he was gracious enough to take time out of his busy schedule to answer my questions. Let's get started!
---
First off, how did you get into filmmaking?
PH: I went to film school at Sheridan College. Then I struggled a long time trying to write screenplays while being a waiter/barista/DJ, etc. etc. Miraculously after years of struggling, a school friend offered me some work. And that slowly built to a legitimate career. It's pretty crazy but it took a long time.
Had you heard of ONE OK ROCK before this? How were you approached to direct this video?
I hadn't heard of ONE OK ROCK before. Chris at Fueled By Ramen reached out and emailed, seeing if I'd be interested in telling a story about the Asian American experience. I liked the idea so I took it on.
What were your first impressions of the song Stand Out Fit In? It was written and performed by a Japanese band whose first language is not English. Was there anything about the music or lyrics that caught your attention?
I was kinda of surprised it was in English, actually. And that it was very poppy. After looking at their other music, I had expected it to be heavier. I like that in the version they released, there's a Japanese verse. I think that's very cool and very fitting for the message of the video.
Oh, so you listened to some of the band's previous songs for reference. Which did you listen to and were there any tracks that you liked? How differently would you have approached the video if Stand Out Fit In were heavier like you had expected it to be?
Yeah, if I'm ever sent a new track from a band I haven't heard of I'll do a quick Google and generally listen through the top searches. I don't remember any specific names off the top of my head, I liked We Are a lot, but I do remember reading their Wikipedia. I liked their comparisons to Linkin Park and was impressed by their audience numbers in Asia.
If the song were heavier, I don't think I would have changed my approach that much – I would just have to know tonally it would work. A lot of that comes from just listening to the song and allowing the music to dictate certain visuals. The dance sequence, of course, will likely have been choreographed totally differently.
ONE OK ROCK's vocalist Taka has mentioned that you've never met. Was there any kind of contact between you and the band to get a feel for what they wanted the video to convey or were you given free rein to interpret the song as you wished?
Chris basically liaised for us, so there wasn't direct contact. I was given free rein to write, but the band would give notes based on how they felt. I think everyone was on the same page so there wasn't too much back and forth. It was a pretty easy process.
I believe there was a casting call for a number of roles. How did you decide on Steven Chau to portray teenage Hao?
Steven could act and dance. That was pretty hard to find an Asian-American candidate who did both. It's hard enough to cast minority roles because there tends to be fewer in the acting pool. He also looked the part and could pass as the teenaged version of our younger Hao.
Was there anything that you were incredibly particular about during the shooting of this video? What led you to incorporate the traditional Bian Lian dance?
I just wanted to make sure that things felt realistic but not hammy. I didn't want to go overboard with very overt racism, but wanted to keep everything more on the subtle end of things. The Bian Lian dance came about in an effort to add something surreal to the video – and I thought thematically it was a cool idea since I feel like a lot of Asian-Americans change who they are and put on different faces depending on who they're hanging out with.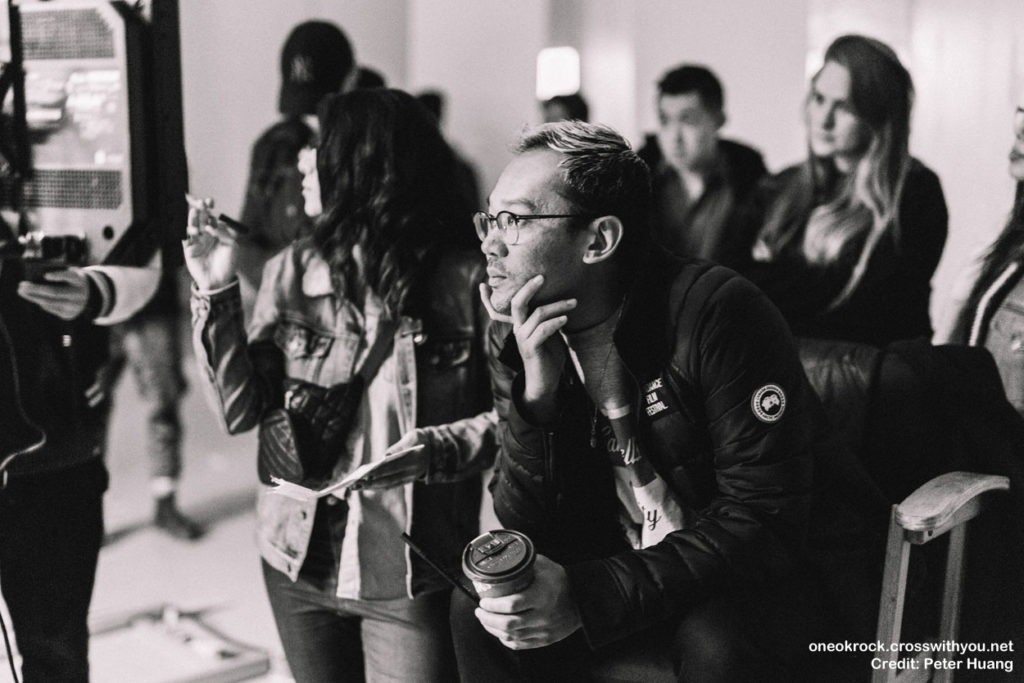 Have you read any of the comments regarding viewers' interpretations of the dance scenes, etc.? If you have, what did you think of them? Did they match what you had in mind when you shot the scenes?
Yes, a lot of them nailed it. I actually thought it would be more obvious… since Steven basically changes how he looks too right afterwards.
Many viewers have expressed that they were able to relate to the story. How much of it was drawn from your own experiences growing up?
A lot of it. And if it wasn't a direct experience, it was experiences I'd seen happen to other Asian friends of mine.
What audience do you want this video to reach? What do you hope people take away when watching it?
I was hoping Asian-Americans would relate; but I really hope everyone sees it and gets it. My production designer is Lebanese and had similar experiences growing up, so I think it speaks to a lot of immigrants' experiences. I hope it helps people understand each other a little bit more. I grew up with a lot of white friends and I'm not sure they understood how I felt about being Asian-American, and feeling like an outsider.
Out of curiosity, whose idea was it to include all the fun little ONE OK ROCK references throughout the video?
Since we didn't feature the band, the label recommended we add some small touches. So we asked for some art and our production designer made sure there were little references in each scene.
If you were to meet ONE OK ROCK, what would you say to them?
"Hi, thanks for trusting me with this video." I actually really want to see them live. So if I meet them I hope it's in the context of a concert.
Lastly, what do you think of the reception this video has received? Could you please share a few words with those who find themselves standing out and struggling to fit in?
Judging by YouTube comments, the reception has been great from the perspective of first generation kids growing up in the Western world. I was surprised by the amount of people who felt like the video exactly like their life. I would say to people who are struggling right now that it gets better when you get older, so long as you don't hold onto any resentment. I'm concerned that as a culture, we're obsessed with blaming some 'oppressing' power for the problems in our own lives. I hope people develop proper coping mechanisms, and I hope they understand that everyone has difficulties. Everyone is trying their best.
---
Many thanks to Peter for giving us an exclusive inside look at the creation of this powerful music video. If you have not yet watched it, be sure to check it out below!
日本語
2018年11月23日に、ONE OK ROCKの公式YouTubeチャネルにて新曲「Stand Out Fit In」のミュージックビデオが配信開始されました。わずか1ヶ月間に動画が日本語版と英語版合わせて800万回以上視聴されています。マイノリティが立ち向かうチャレンジや馴染むための行動の表現で動画は世界中に大好評です。
MV監督のピーター・フワング氏に「Stand Out Fit In」の撮影裏話などについて聞いてみました。ありがたいことに、お忙しい中取材を了承していただきました。さあ、始めましょう!
---
まずはフィルムメーカーになったきっかけを教えてください。
シェリダン・カレッジでフィルムスクールに通いました。ウェイターやバリスタ、DJなどのバイトをやりながら脚本を書くのに長い間苦労しました。何年も経った後、奇跡的に学校の友人がお仕事をオファーしてくれました。それからだんだんキャリアになってきました。かなり時間がかかりましたが、運が良かったです。
前からONE OK ROCKのことをご存知でしたか?このMVの監督になる依頼はどこから来ましたか?
いいえ、知りませんでした。フュエルド・バイ・ラーメンのクリスさんからメールをいただき、アジア系アメリカ人の話を語るのに興味はないかと聞かれ、面白そうだったのでご依頼を受けました。
「Stand Out Fit In」の第一印象を教えてください。英語が母国語ではない日本のバンドに作詞・作曲された曲ですが、歌詞や曲について気になる点がありましたか?
実は歌詞が英語だということとポップサウンドでちょっと驚きました。過去の曲を少し聞いてみたので、もっとヘビーだと想像していました。歌詞に関しては、日本語も少し入ってて良かったと思いました。カッコ良くて、ミュージックビデオのメッセージにすごくマッチしていると思いました。
参考に過去の曲も聞きましたね。どの曲を聞きましたか?好きな曲がありましたか?もし「Stand Out Fit In」が想像したようにヘビーな曲でしたら、ミュージックビデオはどのように変わると思いますか?
はい。知らないバンドから新曲が届いたら、ググってみて、上位の検索結果から数曲を聞いてみます。曲名はすぐ出て来ないですが、「We Are」がすごく好きです。ウィキペディア記事も読みましたね。リンキン・パークとの比較が良くて、アジア圏のオーディエンスの数がすごいと思いました。
曲がもっとヘビーでも、ビデオへのアプローチを多分あまり変えなかったと思います。その曲調のままで上手く行けると思い込むしかないですね。ただ曲を聞き、音楽にビジュアルを描かせるだけです。ダンスシーンの振り付けは全く違うものになったかもしれませんが。
ONE OK ROCKのボーカリストTakaさんは監督とまだお会いしていないと仰っていましたが、製作中にビデオを通じてどんなメッセージを伝えたいかのやり取りがありましたか?それとも監督の解釈で全てが決まりましたか?
クリスさん経由で連絡を取ってくれたので、直接連絡を全くしませんでした。脚本を自由に書けましたが、バンドからフィードバックももらいました。みんな同じようなことを思っていたからか、やり取りはあまりなかったです。かなりスムーズに進めました。
確かいくつかの役はオーディションで決まりましたが、スティーブン・チャウ氏を大人のハオくんに選ばれた理由を教えてください。
スティーブンはお芝居もダンスもできる人です。両方できるアジア系アメリカ人を見つけるのは大変でした。候補が元々少ないので、マイノリティ系の役をキャスティングするのは難しいです。見た目も似ていたので、スティーブンはティーンのハオくんで行けました。
撮影中に特に拘った点がありましたか?どうして中国四川省の伝統的演劇「変臉(へんれん)」を入れましたか?
気取らずに写実的な雰囲気にしたかったです。人種差別をあからさまではなく、さりげなく表現したかったです。シュールな何かをビデオに入れたかったから変臉を入れてみました。たくさんのアジア系アメリカ人は周り次第自分のことと自分の顔を変える気がするから演出的にカッコ良かったと思います。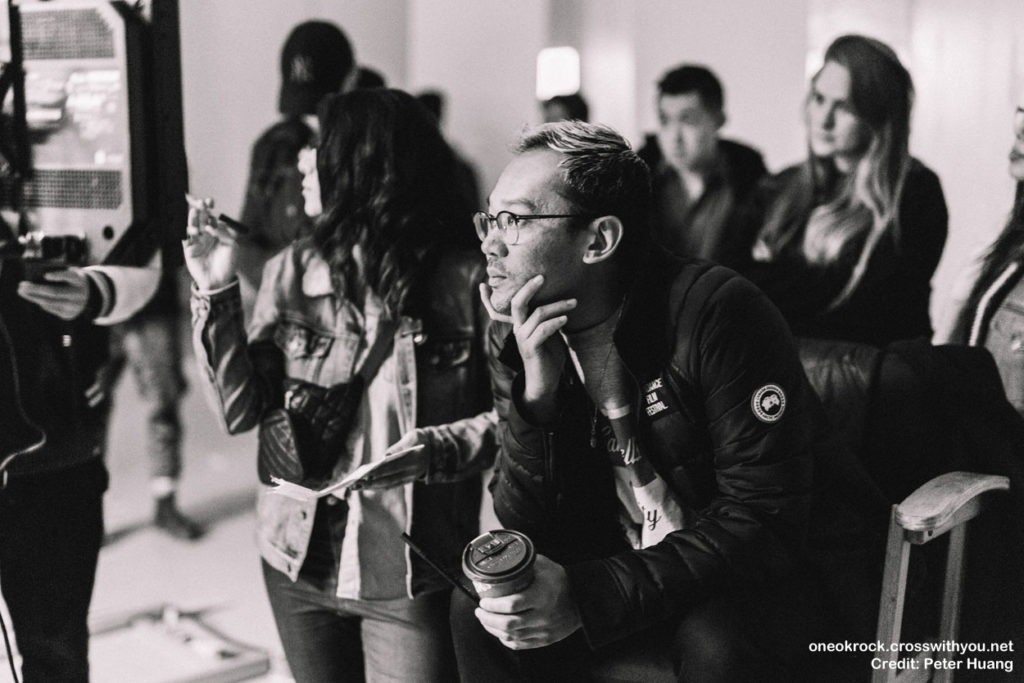 視聴者によるダンスシーンなどの解釈コメントを読まれましたか?もし読まれましたらどう思われますか?皆さんの解釈は監督の意図と一致していますか?
はい、多くはばっちりでした。後半にスティーブンが容姿も変えたのでもっと明白かと思いましたが。
MVに共感した方が多くいらっしゃるようです。ストーリーは監督の経験から描かれましたか?
そうですね。僕が直接経験しなかった場合、見てきたアジア人の友達が経験したものです。
この動画を誰に届けたいですか?視聴者にどんなメッセージを伝えたいですか?
アジア系アメリカ人に共感して欲しかったですが、たくさんの人に見てもらい、分かって欲しいです。プロダクションデザイナーはレバノン人ですが、彼も似たような経験をしましたので、多くの移民してきた人が共感できる内容だと思います。これで人はもう少し分かり合えたらいいなと思います。僕はたくさんの白人の友達と育ってきましたが、彼らはアジア系アメリカ人の僕の気持ち、よそ者の気持ちを理解できたか分かりません。
ちなみに、ビデオ中に出てくる色々なONE OK ROCKはどなたのアイディアでしたか?
バンドのご出演がなかったので、些細な何かを入れましょうとレーベルから提案しました。使える資料を頼んで、プロダクションデザイナーが各シーンに入れてみました。
もしONE OK ROCKにお会いしましたら、彼らに何を言いますか?
「こんにちは。このビデオを僕に託してくださってありがとうございます。」本当は生で見てみたいので、お会いできるようでしたら、ぜひライブで会ってみたいです。
最後に、今回のミュージックビデオの捉えられ方についてどう思われますか?はみ出して、中々馴染めない人にメッセージをお願いします。
YouTubeのコメントから見ると、西洋に育てられた一世の子供達からとても良い反響です。ビデオで描けられた話を全く同じ経験をした人が多くてびっくりしました。悩んでいる人には、恨まない限り、年を取れば取るほど状況が良くなると言いますね。文化として、自分の悩みを誰かのせいにしたがる傾向が心配です。ちゃんと対処法を見つけて、誰も悩みを持っていることを分かって欲しいです。みんな頑張っています。
---
フワング監督、貴重な裏話をありがとうございました!まだMVを見ていない方はぜひ下記でチェックしてみてください!